US President Donald Trump has pardoned former Vice-President Dick Cheney's chief of staff, who was convicted of lying about leaks to the media.
Lewis Libby, known as Scooter, was found guilty in 2007 following an investigation into the unauthorised disclosure of a CIA agent's identity.
The White House said Libby was «fully worthy of this pardon».
«I don't know Mr Libby,» said Mr Trump, «but for years I have heard that he has been treated unfairly.
«Hopefully, this full pardon will help rectify a very sad portion of his life.»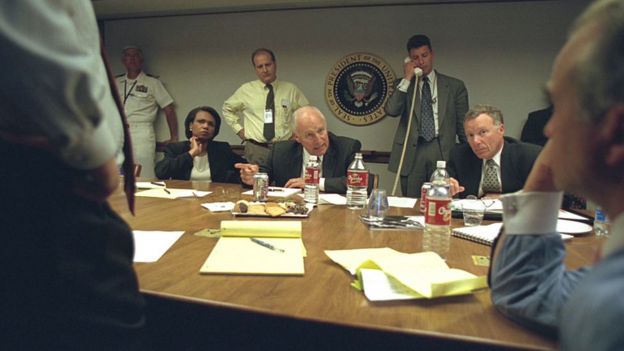 What's the background to the case?
Libby was found guilty of perjury, obstruction of justice, and making false statements following an investigation into a leak that revealed the name of CIA agent Valerie Plame.
His trial heard that Bush administration officials wanted to get back at Ms Plame's husband, former Ambassador Joseph Wilson.
Mr Wilson had written a 2003 New York Times op-ed accusing Mr Cheney of doctoring pre-war intelligence on Iraq.
Libby was charged with lying to investigators about his contacts with reporters, but he maintained he simply misremembered the sequence of events.
He was sentenced to 30 months in prison and fined $250,000 (£175,000).
But his sentence was commuted by then-President George W Bush.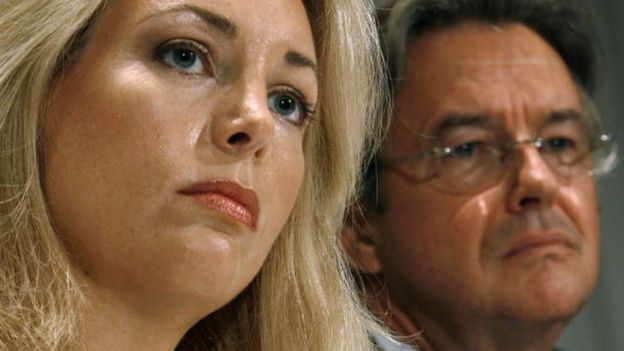 What's the reaction?
In an interview on Friday with MSNBC, Ms Plame condemned Mr Trump's decision to pardon Libby.
«My personal sense is that I didn't think my contempt for Donald Trump could go lower, but he surprises me each and every day,» she said.
«It's very clear that this is a message he is sending, that you can commit crimes against national security and you will be pardoned,» she added.
Ms Plame has previously said her career as a CIA agent was finished «in an instant» once her identity was leaked.
She told the BBC in 2007 that «treason» had been committed in pursuit of political retribution.
Mr Cheney told the New York Times Mr Libby is «one of the most capable, principled and honourable men I have ever known.
«He is innocent and he and his family have suffered for years because of his wrongful conviction. I am gratedful that President Trump righted this wrong…»
On Friday, Democrats charged Mr Trump with hypocrisy for pardoning a man who leaked to the media, despite the president's condemnation of such disclosures in his White House.
Mr Trump's decision came on the same day that he savaged former FBI Director James Comey as a «proven LEAKER & LIAR».
Democratic Congressman Adam Schiff tweeted: «This is the President's way of sending a message to those implicated in the Russia investigation: You have my back and I'll have yours.»
What was Libby case's political fallout?
Mr Cheney had pressured Mr Bush to pardon Libby in the final days of his presidency.
But Mr Cheney's badgering reached the point where Mr Bush reportedly told his aides his vice-president was beginning to annoy him.
After consulting White House lawyers, Mr Bush decided it was best not to issue a pardon.
When he finally told Mr Cheney about his decision, Mr Cheney snapped at him, saying: «You are leaving a good man wounded on the field of battle.»
«The comment stung,» Mr Bush would write in his memoirs.
«In eight years, I had never seen Dick like this, or even close to this.
«I worried that the friendship we had built was about to be severely strained, at best.»
What is a presidential pardon?
Libby's pardon amounts to official forgiveness for his crime, but does not equate to exoneration or finding that he was innocent.
Presidential pardons can overturn consequences of a conviction such as being denied the right to carry out jury service, vote or run for political office.
Since the conviction, Libby has already had his law license reinstated.
And former Virginia Governor Bob McDonnell restored his voting rights in 2013.
This is the third time Mr Trump has issued a pardon.
In August last year, he did so for former Arizona sheriff Joe Arpaio, who was convicted of criminal contempt over his crackdown on undocumented immigrants.
Last month he pardoned Kristian Saucier, a Navy sailor who took photos of classified areas inside a US submarine and served a year in federal prison.
bbc.com